I have a strong mojo I guess. Maybe it's the fact that Noah is always gone, but I am not shy at all about
sex toys
or lingerie. Just ask any of my girlfriends who turn scarlet at the mention of it. I have been told I am "inappropriate" but honestly- I could care less. When Noah leaves for
deployments
, I like to get something nice (
or naughty
) to wear for his return, get some candles, soft music, a bottle of wine, and don't forget about the babysitter (
AHEM!
~
Beth!
* ..
LOL
) I found something I am planning to buy and wear soon for him, so tell me what do you guys think, naughty or nice? PS. In addition, all the pictures in this post are clickable links, that take you to different areas on EdenFantasys.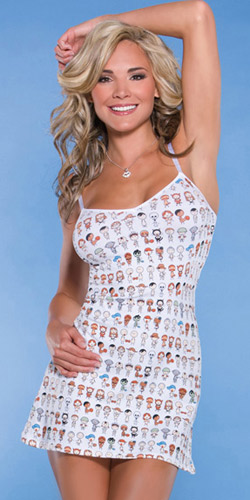 Click the image to go buy this dress!
The chemise above is the Naughty People chemise and is available for 24.99 ! It is so flirty and cute and I love the quirky little "people" characters all over it! Made by Coquette and has adjustable straps, available in numerous sizes, ranging from SM to 2X. Made of cotton. I am definitely buying this!
For something a little saucier I chose this! It makes me want to break out the whips and chains. I love that it comes with stocking and no under-wire, but
still
offers support and push-up. It is also available in black, but I much prefer it in red. Removeable shoulder and garter straps. It is a little more expensive- but still a great deal at 47.99. My favorite part is it comes with a matching thong
and
black stockings, which saves me another purchase or as hurried/frazzled last minute trip to the store. (
When I realize I don't have any!
) It is made of polyester. One size fits most and is only able to be chosen by cup band size.. IE 32-38. I
love
the way it laces up the back! Smokin!~