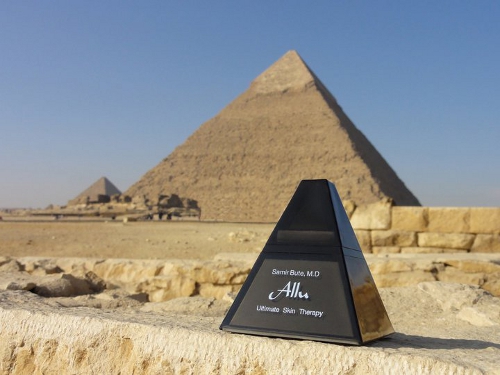 Alluskincare.com
sent me a product called Ultimate Skincare! It smells amazing, and I love the shape of the little bottle. I am offering one lucky reader a chance today- to get one of their own! Even if you don't win.. no need to be sad.. you will have a chance to get your own for free on their website. you just pay
$4.95 shipping and handling
! That's a pretty good deal, right?
Single 0.7oz Travel Sized Tube of Allu
$45.00
$89.98
Despite advancements in medical and beauty technology, everyone from beauticians to celebrities have relied on skin care know-how that predates our society by several millennia. The ancient Egyptian doctor Imhotep made an anti-aging cream to suit a Goddess. Celebrities like Kate Hudson, Oprah Winfrey, and Madonna are all using ancient Egyptian skin therapies. Egyptian beauty creams like Allu are "Hollywood's beauty secret."
Here's how this giveaway will work. It will start tonight at 12:01 AM, (about 8 hours past the publish of this blog post!) on 11/28 Cyber Monday.. it will continue until 11:59 Tuesday night, the 29th. This blog post's LIVE Rafflecopter widget will be able to be entered on, and you will refer your friends to enter this giveaway! Whoever gets the most referrals will win.
You will simply tell your friends to click, "
enter this giveaway
" and in the "
Extra Info
" box, have them write your name.
So cut & paste the URL of this blog-post, onto their walls - or email, or however you choose to tell them.. and ask them to write your Facebook Display name in the "
Extra Info
" box after they click, "
I did this
" .. That's it. No follow this blog, or
any
of that stuff!
The winner's name will appear on Facebook, and I will send them a Facebook Message and a screenshot of the message will be on this Facebook page's photo-albums. Winner will have 48 hours to reply, or the 2nd winner will be chosen.
An independent clinical testing facility performed a study to test Allu's skin-healing powers. Dozens of female volunteers lined up to test Allu over a period of four weeks. The results were overwhelming, but expected. The percentage of women who noticed significant:
Increased skin hydration and moisturization:
100%
Reduction of age spots/skin discoloration:
75%
Decrease in fine lines and wrinkles:
87%
Improved skin tone:
94%
Smoother skin texture
94%
Conduct your own study. For a limited time, we're letting women across America try Allu, for a free 14-day trial, to see for themselves the strength of Allu's amazing rejuvenating power! Find your fountain of youth and join the movement sweeping across America today!
If your name appears the most, you win. You never know how many people will enter, so it's worth a shot!
What makes this product so special!
Bitter Almonds

contain mandelic acid, an alpha-hydroxy-acid that rejuvenates skin.

Neroli

An essential oil extracted from fragrant blossoms contains mandelic acid that rejuvenates skin.
Beta-Arbutin

A skin brightener, inhibiting melanin production by limiting tyrosinase.

Green Tea

An anti-inflammatory and antioxidant that protects against free radical damage.
Grape Seed Extract

Contains powerful antioxidants to protect collagen and elastin.

White Lotus

Helps your skin pull water out of the air to refresh the skin.
VIEW ALL INGREDIENTS »
Disclaimer**
This giveaway is brought to you by: Allu Skincare. No Purchase Necessary. Void where prohibited by law. This giveaway is no way connected to Facebook. A product was provided to me free for review purposes. The opinions contained in this blog post are 100% mine and not influenced by monetary pay. This post still contains my honest opinion. Any experience I may have with the site, or opinions about its products might not be yours too. Purchase at your own risk.