WATSON AND THE CASE OF THE SNEAKY STEALER
All the animals seem to be missing their treasures and Watson follows the clues to search for them. This book is included when you buy Watson Story Buddy. When you say key words in the book (loudly) Watson chimes in at apprpriate moments, saying thing's such as
YOU READ "Watson, we could really use your help!"
Watson will chime in: "I'm on my way!"
The kids LOVE it!
The girls (Lynzey, Ashelynn & Giana ) head to Giana's room to play with Watson!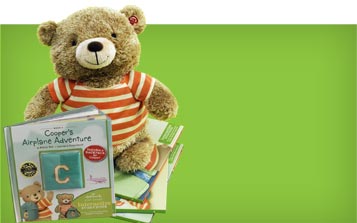 This is Cooper, another Storybook Buddy!!!
The girls, (age 7-age 11) approve!!!
"I'm on my way!"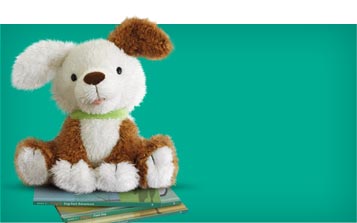 This is Nugget, another Storybook Buddy. There's even a Scooby Doo StoryBook buddy coming soon!!!!!
"Look Watson, It's you!"






T

his is a demo of Hallmark's Interactive Story Buddies in action. An adorable character chimes in as you and your little one read key phrases from a coordinating book. A Dr. Toy "10 Best Tech Products" winner!
Smile pretty!
*Giggles*
Watson, your so silly!!!
Lynzey shows Watson some Love!
We can count on you Watson!
Capture your voice reading favorite stories like Guess How Much I Love You ... Share meaningful moments with a library of titles, and more on the way .... Get a child daydreaming about future adventures with the help of artwork and ... record solo, parents or grandparents and kids to record together, or aunt or uncle to kids.
Capture your Voice- so you'll always be together, even when your apart!
Perfect for Military Families, such as ours!
COMFORTS OF HOME
Capturing the voice of the soon-to-be-deployed parent is a great way to help a child feel connected during Mom or Dad's absence. Also, a Recordable Storybook, read by the little ones and mailed to the enlisted parent, will be a great surprise and a breath of fresh air.
ONE MORE BOOK, MOM?
Use a Recordable Storybook to help improve your child's reading skills. Listening to the recording while following along is an easy lesson that never feels like homework!
FOREVER REMEMBERED
Capture the voice of an ailing loved one for a family heirloom that'll be treasured. The recording will last even after the battery is changed.
There are also THREE Disney Books too!
A good book can really take you places, especially if that place is in your heart. My husband is in the US Navy & deploys often. I stay too busy while he's gone to feel sorry for him (or us!) too long about his absence. Since he deploys on Submarines, it is different than other branches of the military because he can't Skype (video chat) with us (EVER!) or call us either. I get very few emails, with no pictures, I can go weeks without 1 email. I have gotten used to it, but our kids -- not so much..
Devonny loves it and thinks it's neat that she can hear her Daddy talking to her.
Here, see for yourself:
Our Picture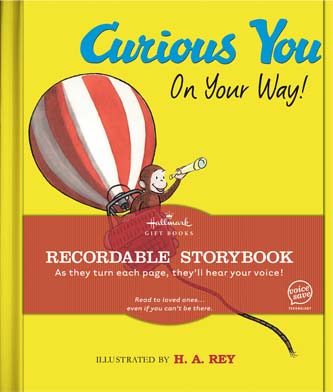 I sat right next to my husband the day before he left while he recorded this for our daughters. It was super simple to record. The only issue I've had is, he forgot to lock the story, and my 2 year old tries to press the buttons, which have the potential to erase the whole story if not done properly. Being that he was in such a hurry & didn't do that last step, and I don't know where the instructions are, it is a slight issue.
Here are some of the pages of the book, and you can preview other pages of other books your interested in on the Hallmark site too!
I just noticed this neat little recordable book on their site, that is an interview between Dad & Kid .. or other(s) Conversation Books. Who knows? Could be the next Hallmark review & giveaway!!!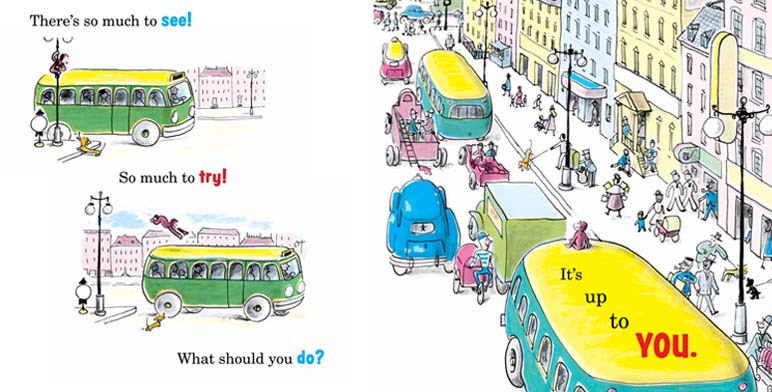 We own it, and this is one I am considering buying!!!
This best-selling story of love between a mother and her growing child will help remind your little ones that you'll love them forever. Perfect for mother to child.
What you will win: one Record-able Storybook + 1 Storybook Buddy. (ARV 60$+)
Hallmark's Rcordable Storybooks Which book would you want to buy if you saw them all in a store? (Please note: winner will not have a choice of prize, sponsor will select 1 storybook &/storybook pal for you, probably the same ones reviewed in the post!)
What's a memorable Hallmark Moment of yours?
Like these 2 Facebook Pages: https://www.facebook.com/LocomotionOfExpressions & https://www.facebook.com/HALLMARK NOTE: Both pages must be liked, provide your Facebook display name in the comments on this post!
Comment on ONE of the pages that you are excited to win on Locmotion of Expressions the 2 items you might win!

Tell me where the closest Hallmark store to you is located. Find it here:

Hallmark Store Locator
Share this giveaway on on of your social networks using the share buttons along the bottom of this post. Please provide verification links/handles for your share (IE: If you share on Google +, provide Google + name, if you share on Pinterest, leave your Pinterest URL, if you Tweet, share the link to it ((DONT JUST SAY: "I tweeted!" .. sorry, I've seen that done, and please if you tweet mention me as @1caseycolette )) you can share on Blogger, LinkedIN or any other ShareThis site: You can share on FB, plz leave link to your share, cannot have private profile.) If you need help understanding these rules, please defer to the Locomotion of Expressions FB page. For clarification, this is ONE share, not daily entries. I n order to find the share buttons click the

ORANGE

"

+

"

sign.
Last entry: Which StoryBook Buddy is your favorite? (Please note: winner will not have a choice of prize, sponsor will select 1 storybook &/storybook pal for you, probably the same ones reviewed in the post!)