brought to you by: EdenFantasys
I
love
being an Edenfantasys blogger. It means I get paid to post my opinions about their site. Paid in gift cards makes it an even sweeter deal for me. What I have learned in the year I have been doing it, is: Glass toys are the Wild Card that trump any other adult toy out there. They are non-porous, can be chilled or warmed, easy to clean and care for, and feel fantastic. I wasn't sure what I would think at first of glass. before this, I had never tried it. I wrongly assumed I wouldn't enjoy it.
Every store I have ever walked into, well- they are too expensive, right?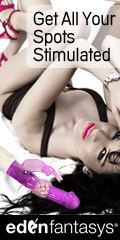 But
not
on Edenfantasys.
They are more than affordable. I have yet to find them
anywhere
else for a better price even.
I figured these glass toys would be fragile and awkward because they do not bend, but that is not so. They are better in my humble opinion than the "flexible" and "real" toys. I love that they is no vibration. I do not like rabbits too terribly much. In my mind, a toy should do one or the other. Be insert-able, or vibrate for a woman's most special spot. However- when they do both simultaneously, it kinda sends me into overdrive and I cant focus or concentrate on just the ONE sensation.
For me, vibes are to be used alone, and dildos are for use with a partner.
But I am quite certain I could find many who would disagree.
Here are 2 toys that I own from Edenfantasys made of GLASS.
INKED - hand blown glass probe dildo this little delight by Cal Exotics is my favorite glass toy. The slight curve and the pronounced head make it more pleasurable than my other glass toys. You can buy it for only $24.99 and use one of Edenfantasys many coupon codes to save even more money!!!
Rainbow Heart is $24.99 on the site Edenfantasys. I own it, and it is super intense, almost to the point of being too much for me. For advanced ONLY. I'm a beginner. My mistake.
Here are two glass toys I would like to buy.
This green flower petal glass dildo is so pretty I wouldn't want to use it. The interesting textures of the nubs curving downwards are sure to be intense, but surely not as intense as the 100+ nubs on the Rainbow Heart (see above) it's cost is a little more than I am used to paying at $69.99. Unfortunately right now it is out of stock, but I have an alert set (on product page) to remind me to buy when It comes back in stock.
Looks can be deceiving but this pretty glass toy screams Go

red

,

white

& blue & seems very patriotic. It is a pleasing 8 inches long, with the handle. I like the handle because it seems like it would make it easier to use. I will let you know if I try it. It is a genuine Icicles toy, and it costs only $64.99
Buy Icicles no-22
@edenbloggers
Edenfantasys Google +
Facebook.com/EdenFantasysShop
Disclaimer:
I did receive monetary compensation for this review as mentioned in the post. However- my thoughts & opinions in this review are unbiased & honest and your opinions may differ. I am not responsible for delivery of any giveaway items won from this blog. We are not responsible for injury or mis-use of any products won from the Blog. Please read our Terms of Service & Disclaimer Policy before entering our giveaways. Thanks!