As a woman, I have certain needs that have to be fulfilled. As a Mom, it's quite hard to do those "things" with older children running around. It's hard to shop for yourself online, because despite what the item description says, you never know just what you are going to get when you open the box. This can also be true for in-store purchases of adult toys.
Edenfantasys knows that, and goes more in-depth for it's toys than any site I have EVER seen do.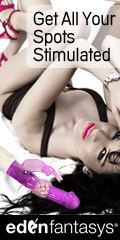 I have talked before about their "real size" but today, I want to touch on the Categories. Edenfantasys breaks down their categories in such detail, making your shopping experience so much easier than it would normally be.
For instance, back to what I was saying about older children. Not only to you have to hide your sex toys from them, but they also have to be quiet toys as well. Have you ever gotten a toy home, only to find that it is RIDICULOUSLY loud and sounds like a lawnmower, even on it's lowest speed. That can make it sort-of hard to be discreet to say the least!
Edenfantasys can help you with this issue! They have their own little Extra Quiet Vibrators category. I found one I am interested in, called the " Insignia Alia ". Not only is it extra quiet, but it is also discreet. If it were to be discovered, I am not sure a younger child would know what is was. It is made of silicone and is extra soft (Hypo-allergenic, Latex free, Non-porous & Phthalates free too!)
It has several different functions, and a built in control panel to operate them by. It's escalating, pulsating, & Vibrating to give you the experience you expect from a toy, and the quality you expect from EdenFantasys. The price is $114, and you can read more about it by using the links in this post. You can save even more by using coupon codes, which Edenfantasys is always offering. If you are not signed up for their emails, do so now, so the next time they send them out, you'll be sure to get them. You can also Google to find some of the latest ones.
Good Luck!
Disclosure
-
I blog for EdenFantasys in exchange for gift cards but the opinions are 100% my own!