*Shrugs*
But this company:
Dali Decals
, is awesome!
I have nothing bad to say
!
In any aspect this company
could
fail they did not.
My order was correct, and on time, the decals were easy to put on, came with awesome instructions. I really have nothing bad to say! So instead of droning on and on (like I
usually
do) I am going to instead show you what I ordered, their pictures of it, and how it looked at
MY
house. Then, I am going to show you some of Dali Decals "best of the best", that is- the decals I like, and save you time browsing.
All of the decals are wonderful, some are more wonderful than others, and some are a little expensive for my taste, but still reasonably priced for it's size. You can pick from an array of
colors
and sizes for all of the decals, and even if a decal doesn't say it comes in a size you need, you can request custom sizes, and they are willing to work with you. Every decal is completely customizable, and I love that! They also have decal mosaics, and
Custom Printed Wall Decals & Murals
&
Custom Printed Canvas
es.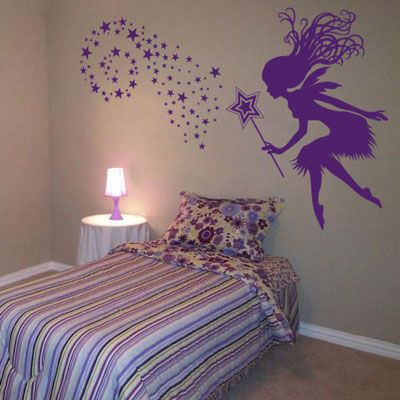 Their Picture of it.
Fairy with Magical Wand Stars
$55
This fairy and magic wand wall decal will add some magic to your space! Shown here in LARGE and in our purple, she's available in all of our colors and other sizes as well! You will receive this fairy decal, one magic star wand decal, and all the star decals shown to place however you like!
The fairy measures as follows:
Large (shown) 22" wide by 37" high
Medium (27" h x 16" w)
Small (18" h x 11" w)
The Large version of the wand measures 6.5" wide by 15" high. The wand and stars will be scaled down according to the size of the fairy that you select.
FREE SHIPPING if you spend $50 or more!
One thing you should know about our decal is my husband made it look exactly like it did in their picture, and made it look easy. I assumed the stars would be in the shape like on their site, but they were not. My husband was able to correctly form and duplicate the exact same pattern they used, and made it look super easy! It took him about 30 minutes to get the decal on my daughters wall, and he used chalk to form the "swirling" shape you see that the stars make.
The winner is incredibly lucky, because the gift certificate can be used in conjunction with other payments, and they accept major CC & PayPal.
If you have issues with the Rafflecopter form/widget, please try refreshing the page, and if you still have issues, direct questions to my Facebook page or Rafflecopter's Facebook wall.
a Rafflecopter giveaway