Last months giveaway on Jenn's Blah Blah Blog was just as big as the one below is going to be!!! She (Jenn) received nothing but positive comments from readers. They love the fact that she gives them control of what
they
want, & even had people that came back to comment, vote and tweet daily. Allowing them to choose their own prize.. is something readers apparently lie very much so!!! That's the reason she's decided to do it monthly! Great news for you, huh?
It's so easy bc you will win anything you want up to $200! Keep in mind shipping is included in the 200$ not in addition to.
Other giveaway's on Jenn's Blah Blah Blog?
No problem!!!
Christmas Giveaway FREE Blogger Opp Open Worldwide, we are adding prizes as we go so far for sure we have $250 WINNER CHOOSES PRIZE, $50 Amazon Gift Code and working on $250 to Maggies Bags
http://jennsblahblahblog.com/free-blogger-opportunity-christmas-giveaway/
Glass Handbag Round 3 Open WW FREE Blogger opp
http://jennsblahblahblog.com/glass-handbag-free-blogger-opportunity/
Free Blogger Opp open to us
http://jennsblahblahblog.com/free-blogger-opportunity-36/
Paid Opp, open WW iPad Giveaway
http://jennsblahblahblog.com/blogger-opportunity-ipad-giveaway/
Rafflecopter Code
a Rafflecopter giveaway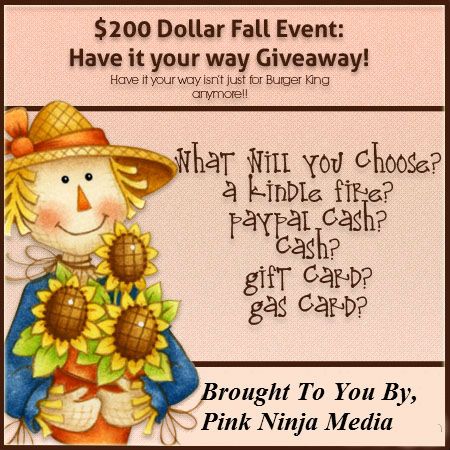 Welcome to The Awesome Have It Your Way BlogGY Giveaway!
This wonderful event is brought to you by,
WINNER CHOOSES PRIZE UP TO $200 ANYTHING THEY WANT KINDLE, PAYPAL, GAS CARD, you could ask for American Girl Dolls, A Keurig, A new Collection of your Fave DVDs on BluRay, like Across the Universe/ A Planet of the Apes boxed DVD set, or Magic School Bus DVD set! Or a set of encyclopedias! Oh man, how I needed some of those and couldn't afford them earlier this year! Heck- I would even be willing to pay the extra were there any, you know what I mean?
Anyway! It's not required for the giveaway but I'm curious how many of you will enter, and what for? If you don't mind me asking, post it in the comments here on this blog, if anything-- for a thank you for hosting! :)
Good Luck guys, the Rafflecopter widget will stop taking entries once the giveaway deadline has passed and also reflect the winners name! Please read all rules and disclaimers involved before entering, I myself (L of E) am not responsible for prize fulfillment!
What you will win? ANYTHING UP TO $200 SHIPPING INCLUDED IN THE GIVEAWAY!
If I won, I'd be sure to take whatever I got with it and save it as a gift for the Holidays, I stockpile presents early, like a Mad Squirrel!!
Details:
Giveaway is open Worldwide.
Giveaway will start on September 20, 2012 at 12:01am EST and end on October 20, 2012 at 11:59pm EST.
One Lucky Person Will Win ANYTHING THEY WANT, valued up to $200 with shipping.
Please use the Rafflecopter form below to enter.
We realize there's a lot of bloggers, so we added extra entries! Earn an additional 25 entries for completing certain tasks on the Rafflecopter. Remember you only have to complete mandatory entries to enter the giveaway, the rest are extra entries. Giveaway runs an entire month so you don't have to finish it in one sitting, remember to come back for daily tasks to earn more. You'll also be introduced to some AMAZING Bloggers, each blogger in this event is awesome and brings something special and unique.
Disclaimer: This blog is not responsible for shipment of prize, Jenn's Blah Blah Blog will be responsible for shipping prize to winner. I did not accept any form of payment to help promote this giveaway.
You do not have to be a blogger to enter or win this giveaway.