Don't know what to get the

significant

other in your life? Allow me to make some
recommendations
for your Best friend, your Wife/Girlfriend, or even your Husband!!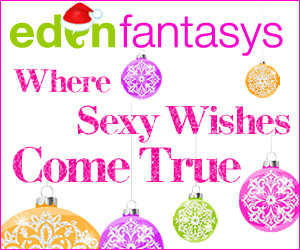 Now is a great time to check out
Eden
Fantasys
again, because they have plenty of products that make great stocking stuffers (if not outright presents)!
Holiday gift ideas from the site
I found
three
that anyone would love to own, and I'll share their names and images with you now!
If your
wife/girlfriend
is anything at all like me, I just know she'll
LOVE
this.
The first is one that I recently bought from there.. and I adore it. It's way too pretty to use, but I like the novelty of it, and I plan to keep it new in box.. it's a HELLO KITTY vibrator! Check out the image I posted to twitter of it today!
(It comes in
pink
,
purple
,
black
, &
red
) it is $23.99 on the site! It is currently Out of Stock, but you can set up a notification to be alerted when it comes back in stock, which is one of the most beautiful parts about ordering from EdenFantasys.
Next up!

The Hubby:
Now don't tell HIM I told you this, but my husband adores the Fleshlights. At first, he was 100% against it, but once I ordered it (despite his protestations) and actually got him to try it, he came around (good pun, huh?) and admitted that it is fan-freaking(OOHH! Score two for me w/ another good pun)tastic!
Now, you should first know that there are all sorts of Fleshlights to choose from, so choose accordingly!
I do want to point out the Fleshlight FREAKS, (think Alien, Drac, Zombie, Cyborg and Frakenstein) because I think they are too cool for school..
But there are also incognito fleshlights that look like Beer, and are more discreet, if you have young prying meddlesome Scooby-doo-Gang-kids like my own.
Moving back to the
F
R
E
A
K
S
of the Fleshlights, while it does sound weird, they are extremely pretty as far as Fleshlights go.
But then again, of course; I love the novelty of them. They are usually sold-out and hard to find, so I'd buy them soon, in case they stop making them, as I'm sure they will be a limited type of thing.
The best part about this particular toy is: there are matching toys for the ladies, so you can buy your husband one for him to use on himself and a matching one for him to use on you! A gift for him, that's also for you!!!
Drac Fleshlight
My favorite FREAK set was definitely the

Fleshlight Drac. My only issue and why I do not yet own one, is each one sells for $74.95., While this is a good deal as far as Fleshlights go.. it seems a little steep. But you get what you pay for, and these toys are quality. Like I said, expensive, IMO BUT for a Christmas gift, not too shabby of a price, surely. (
Just be sure NOT to open it in front of the kiddies!)
Drac Dildo
If the ladies reading this are intrigued, you can also find a jellyfish and a tentacle, but they are made by a different company, relevant because they are "monster-ish". If this has floored you- don't worry, it did me too. So strange, yes, but titillating too.
Moving on: you obviously can't buy your best friend sex toys.. OK, you CAN but most wouldn't.. I mean, besides me, but I'm weird.. and everyone knows to expect embarrassing gifts from me, but probably not from you. I like to keep my close ones on their toes though.
Whether or not you found the gift idea you were looking for contained within this particular blog post or not, I don't know. But I feature all kinds of great Edenfantasys products I find here once a month, so browse through my past EdenFantasys reviews here for even more sexy gift ideas!!
Disclaimer: I will receive a free gift card in exchange for this post. I was not compensated in any other way. All opinions are 100% my own
.