I have been blogging for
Edenfantasys
for about a year now! Happy Anniversary to me and them, huh? They have contributed to my love life in ways I will not even begin to delve into with you. The last time we spoke about them, was three weeks ago, about how you can get gift cards in exchange for blogging.
But it you don't have a blog,
or
are not interested in touching on that subject with your readers/friends/family.. then you can still get things for free to review for them on
THEIR
site. If you have an Edenfantasys account, then just log-in and follow these simple instructions.
I am pretty sure until your "verified" you can only review items you have bought or own. Those are called "Not-Assigned" reviews". Once you do a few of those and get your account on Advanced level &/or "Verified" you can request a product be sent to you. You have to be Advanced, I'm sure so they will know/see that you are trustworthy
AND
can write quality reviews. So don't slack on any of them. A+ for effort! Remember to go into detail and spell-check too!
The Assigned Review writing process consists of four major steps: Grab Product, Request Assignment, Accept Assignment, and Write Review.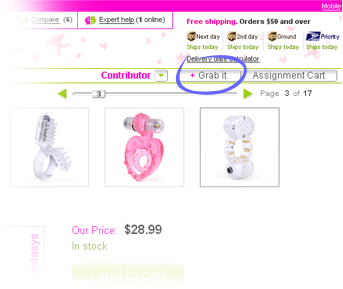 Sign into your EdenFantasys advanced contributor account, & click on the tab that say "Contributor." At the top of the page, you will notice the Contributor Toolbar with a button for the Assignment Cart. Find the product you wish to review and click the "Grab it" button in the Contributor Toolbar. Once you click the "Grab it" button, the product is then in your "Assignment Cart", while your assignment is created.
Please know though, some products are not going to be available for review. *Sad Face!* But there are so many, it shouldn't be hard to find another. They might simply have already been reviewed or have been assigned or even just out of stock!

You may only review one product at a time. Once one review is completeted, then you may start another!
Once you find your item, click the "Submit" button & an review will be started.
You can add and remove products in your Assignment Cart but you
CAN'T
modify it once submitted. However should you choose to, you could cancel the entire assignment, but only
before
products are shipped. Of course, Edenfantasys administrators can approve/decline the assignment you requested.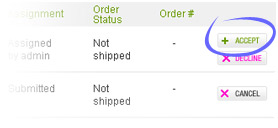 Then last step before the shipment and you writing the review to get your item, and this is important: you have to accept your assignment.
This will confirm that you are still interested in reviewing it because there of a possible time lapse between when you requested it & when it was approved by one of the Edenfantasys Administrators. Once you accept the assignment, the product will be shipped as soon as it is available.
The only other steps are to log back in to your assignments, and click write review. Good Luck!
I have never done this- but my best friend Courteney has, and if a time comes when/should I decide to stop blogging, I would consider this.
Disclaimer:
I did receive monetary compensation for this review as mentioned in the post. However- my thoughts & opinions in this review are unbiased & honest and your opinions may differ. I am not responsible for delivery of any giveaway items won from this blog. We are not responsible for injury or mis-use of any products won from the Blog. Please read our Terms of Service & Disclaimer Policy before entering our giveaways. Thanks!