Greenchild Creations has some of the cutest hand-made diapers I have ever seen! Almost all of them are 13.50, which is super affordable when it comes to cloth diapers, and for this quality, handmade? I mean, first of all, they don't even look handmade, that's how perfect they are! When I think handmade, I think sloppy sewed, (IDK why..) but this? This is better sewn and made with such care, than my clothes I buy at stores are! So I was super impressed, to say the least! The diapers can be made to fit so many sizes and shapes because you can add these amazing snaps all over to make it fit a plethora of sizes as it will grow with baby! Tall, short, chunky, skinny, they work for all babies. She has 100% feedback (positive, naturally) on Etsy. Since her snap diapers come with so many snaps, they fit more comfortably and closer truer to size than a disposable diaper would. Disposables are only available in 5 or 6 sizes, there are no half sizes, or 1/4 sizes, so this kind of diaper is a win for me.
Devonny looks so cute in her Fitted Cloth Diaper OS Bamboo - Pink Skulls. It is so much cuter than any environmentally harmful disposable diaper, that's for sure!

The design of this diaper has a flap that can be tucked in the pocket opening the diaper has. I love the pocket because I can stuff whatever liners I have into the diaper for day or night use. Now if your baby is wearing this overnight or on the go, I would recommend using a water-proof cover because the diaper itself is not waterproof. And with all that being said, I've been loving this diaper and we've had no leaks!
Here's the images of the diaper we chose.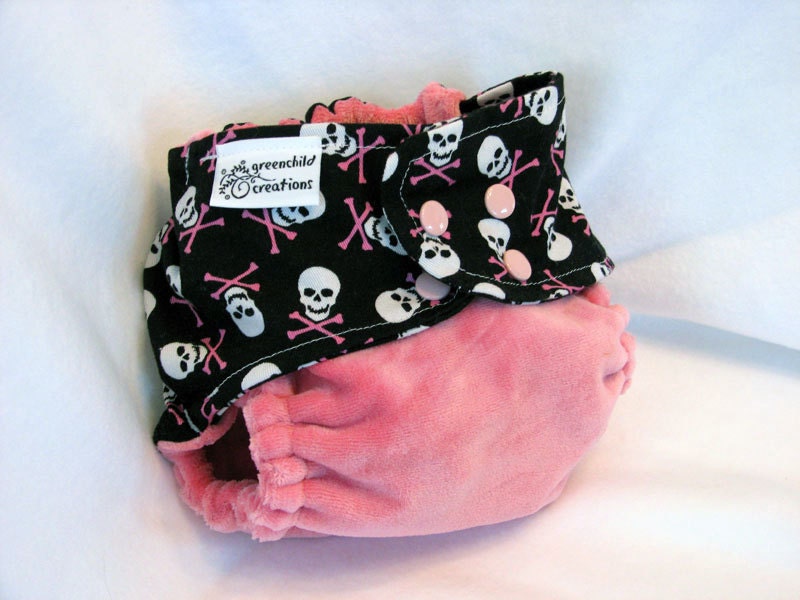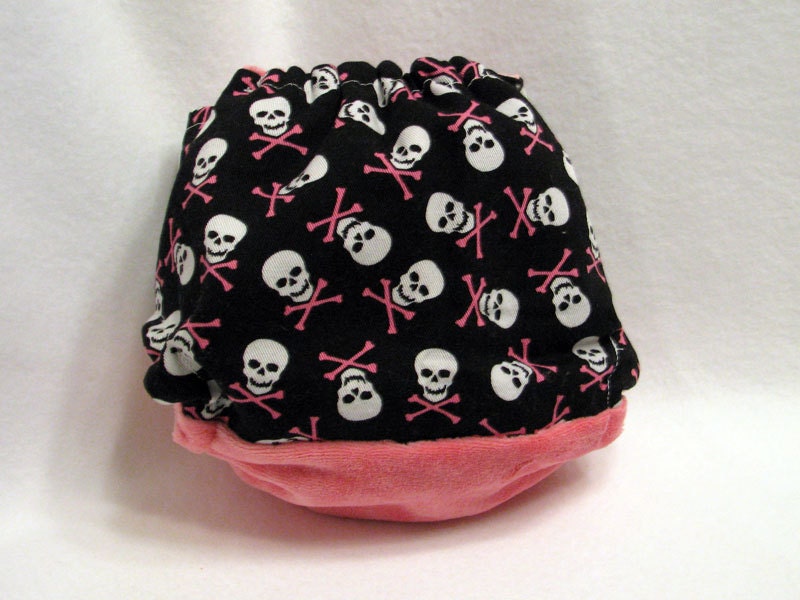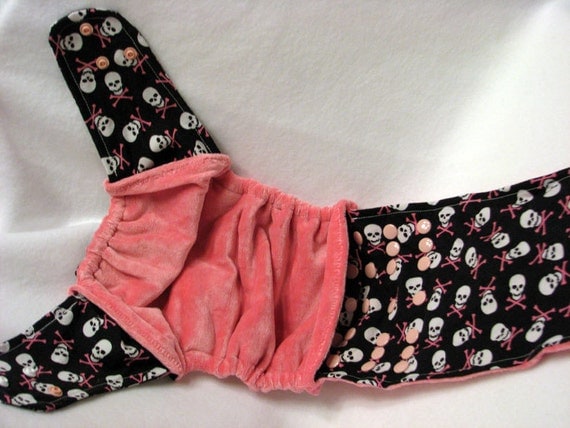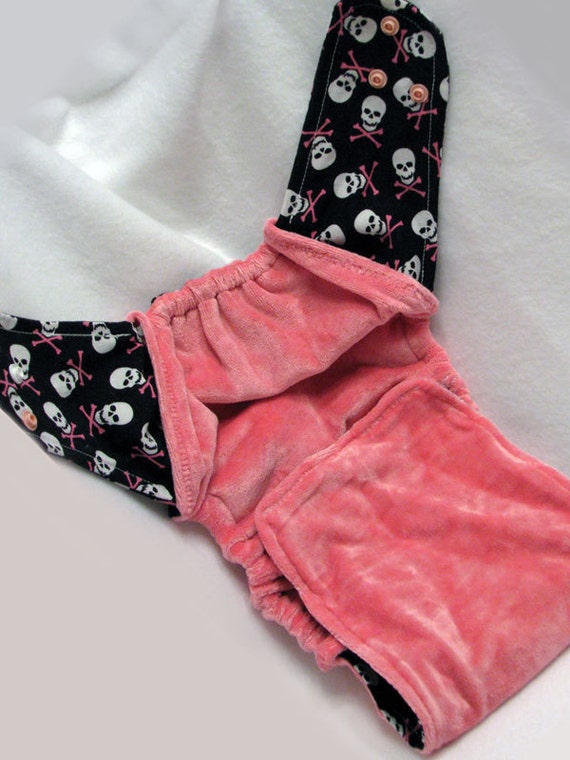 Here's what she has to say about the diaper she gifted LoE!
"
This design was born of the need to create a diaper for my super heavy wetting son and is now my favorite go-to diaper! It is a very sturdy one-size combination cotton twill/bamboo velour cloth diaper.
I also custom make these diapers; you can choose your print and bamboo velour color from any I have in stock! Please check out my fabric photo albums on my Facebook page to see choices. While this particular diaper already has pink snaps added, for a custom diaper you can choose pins for a more economical option, or you may choose snaps or aplix for added fee. With snaps, you can also choose your snap color from my stock.
The waist has elastic and the rise length is set by how far down you fold the front flap to the inside of the diaper; which is why there are no snaps or velcro. You will need a diaper pin, or two, depending on your child's waist size. The front flap may be folded to any length or thickness you choose; it folds to the inside of the diaper, leaving only soft squishy bamboo velour against baby's skin!
This is also a pocket diaper should you wish to stuff with inserts to add absorbancy, keeping microfiber away from baby's skin.
All fabric has been washed/dried one time on hot/high in Planet detergent to reduce further shrinkage before the pattern was cut.
These diapers do require a waterproof cover.
Thank you for checking out the Greenchild Creations fitted diaper! We also offer soft squishy bamboo, cotton twill and cotton flannel fitted diapers, fleece diaper covers, bamboo inserts, baby friendly natural soaps, lotions, diaper pail/room freshener, and many more crafty items!
We sell affordable fitted cloth diapers, cloth diaper inserts, cloth diaper covers, natural soaps and lotions, all with quality and love ~ we do custom orders, too! Come see us on Facebook for current discounts and giveaways:
"
The only thing I just do not "get" as a new cloth diapering mom, is the fact that you have to put a water-proof cover on top of this cute diaper. You don't have to, but you kind-of need to.
BATH TIME!!!!
ALL CLEAN!!!
MY Cutie Pie in her Greenchild Creation!
She (Anne) is running a promotion April 1 – 30th in honor of Earth Day – spend $50 and get a free flannel fitted diaper – customer may specify girl, boy, or gender neutral in Notes to Seller when purchasing.
All her soaps are on clearance right now while she makes the switch over to safflower oil for a super sensuous soap – get 3 full size bars (approx 4.5 oz ea) for only $7.50!
Sweet Potato Pie sounds amazing!
Sweetheart full size soaps
and the
heart set
are on clearance for $3 ea.
All soaps are made with 100% natural vegan ingredients. Diapers, burp cloths, and wipes are made of natural materials (cotton & bamboo), and gift boxes are pine wrapped in natural grapevine. All items are from a smoke free, dog friendly home.

There are numerous styles for sale on her site, and if you didn't catch it earlier she loves to do custom orders! But out of all of them, I really like these two design/styles. Picking just one, is super hard to do! I really like the innovative design of this diaper! Anne created this diaper because she needed a solution for her heavy wetting son. The front flap that you see above on the right side, is folded to lay inside of the diaper. I decided to fold it down and tuck it into the pocket, but it's just as effective to lay it on top of the pocket. You can also increase the absorbency further by adding inserts into the pocket as well.
Her diapers can be used with pins, or with snaps. As I mentioned earlier, the snaps are amazing, and only $3.50 to add! They are very strong and resilient.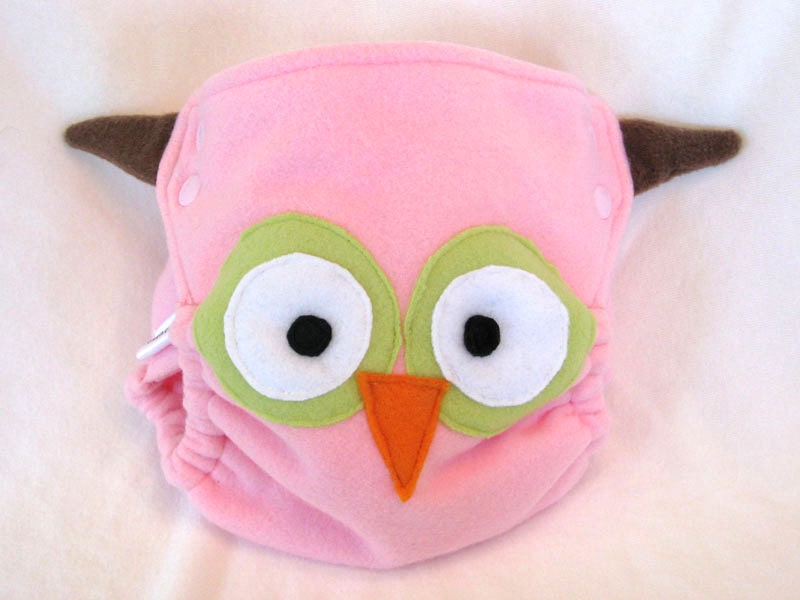 My TOP pick for girl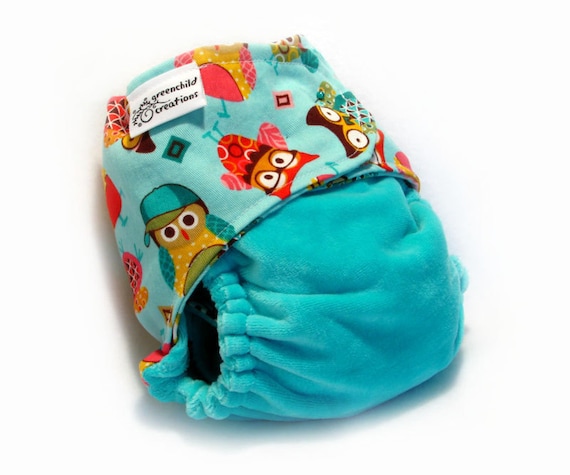 My
TOP
pick for boy!
Greenchild Creations on Facebook
Greenchildcreations.com
thegreenchildchronicles.blogspot.com
*Disclaimer*
I received one or more of the products or services mentioned above for free in the hope that I would mention/review it on my blog. I only recommend products or services I use personally and believe will be good for my readers. I am disclosing this in accordance with the Federal Trade Commission's 16 CFR, Part 255:
Disclosure Statement: Hit Entertainment provided Locomotion of Expressions with this review & giveaway. I did not receive any monetary compensation for this post.