Xia-Xia is the newest tiny toy craze to sweep the kids we all know and loves life this year! They are sold pretty much everywhere, and they are super cute. Giana has been wanting one, but we don't actually own one yet. When we got the opportunity to review this game, we jumped at the chance. I knew Giana would be tickled pink, and she was. She tore into the game like it was Christmas day with a huge grin and immediately put it in her DS XL and played for a long time. I played with her and she showed me how you have to "swim" through the levels collecting treasures along the way. Giana had this to say about the game:
"
I liked earning new shells and really liked finding the tiny rare things. The game was not too hard, but not too easy. I got to choose which hermit crab I played with and I even got to customize it and dress it too! There were about 6 levels and they all had different scenes .. or backgrounds. If I find all the sand dollars I get to collect shells. I had about 4 I think. It was super easy to make the hermit crab swim, but you have to learn how to jump the different platforms and swim upwards, but that didn't take too long to figure out. I liked the game a lot and I can't wait to play it again!!!
"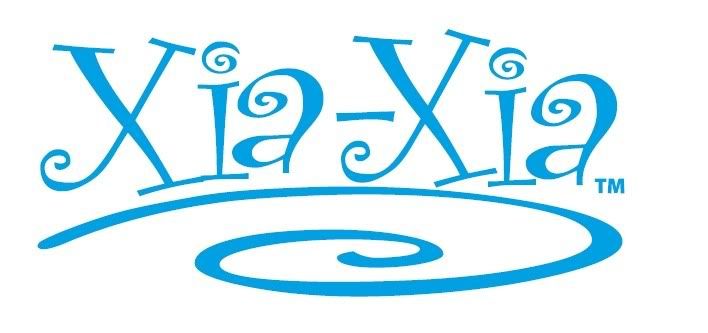 with GameMill Entertainment's Xia-Xia™ the Game Launching March 2012
Explore Nautical Worlds, Find Kooky Friends, Collect, Mix and Match Interchangeable Shells and More with Your Favorite Xia-Xia™ Hermit Crab Characters!
Minneapolis, MN- January 25, 2012- GameMill Entertainment, an independent publisher of entertaining mass-market video games, today announced plans to bring the loveable Xia-Xia™ hermit crab characters to the Nintendo DS™ hand-held system as a delightful and fun adventure game. Xia-Xia™ the game comes out of its shell this March at retailers nationwide.
From sandy beaches to deep blue seas, explore it all with fun and silly hermit crab characters in Xia-Xia the game. Set out on dozens of missions to find shells with your favorite Xia-Xia friends, Bimini, Turks, Trinidad and Tobago. Along the way meet kooky friends and unlock loads of secret rewards in five unique worlds across 25 levels! Keep your eyes open, you must discover the hidden star fish in each world to move on to other adventures. With more than 30 collectible shells to uncover and over 60 missing friends to seek out, Xia-Xia the game provides hours of fun for all ages!
Developed by Black Lantern Studios, the Xia-Xia game for Nintendo DS is rated "E" for Everyone by the ESRB. For additional information about GameMill's line of products, please visit:

www.game-mill.com

.
About GameMill Entertainment
GameMill Entertainment, located in Minneapolis, Minnesota is a third-party publisher of various Children's and Casual games. Development platforms include PC, Nintendo handhelds and consoles including Nintendo DS™ and Wii™, Microsoft consoles including Xbox 360® video game and entertainment system and Kinect™ for Xbox 360®, and Sony handhelds and consoles including PlayStation®3 computer entertainment system. With development across the globe, GameMill is a source of entertaining and fun games for all ages. For more information, please visit: www.game-mill.com.
About Cepia LLC
Headquartered in St Louis, Mo., Cepia LLC is a privately held company that manufactures toys and games for children of all ages. The company was founded on the premise that sufficiently advanced technology is indistinguishable from magic. Ingenuity, creativity, playfulness and passion are the heart of Cepia and everything it creates. Cepia's toy building enterprises include: Glo-E™, ZhuZhu Pets®, Kung Zhu™, ZhuZhu Princess™, ZhuZhu Babies™, ZhuZhu Puppies™ and their newest ventures DaGeDar™ and Xia-Xia™. ZhuZhu Pets® has received top honor Toy of the Year recognition in seven countries, including 2010 "Toy of the Year," "Most Innovative Toy" and "Best Girls Toy" at the 2010 TOTY Awards in the U.S. All toys from Cepia LLC are sold globally through national chain retail outlets and independent toy stores. For more information, please visit

www.cepiallc.com

,

www.zhuniverse.com

,

www.dagedar.com

and

www.xia-xiapets.com

.
*Disclaimer*
I received one or more of the products or services mentioned above for free in the hope that I would mention/review it on my blog. I only recommend products or services I use personally and believe will be good for my readers. I am disclosing this in accordance with the Federal Trade Commission's 16 CFR, Part 255:
Disclosure Statement: Hit Entertainment provided Locomotion of Expressions with this review & giveaway. I did not receive any monetary compensation for this post.