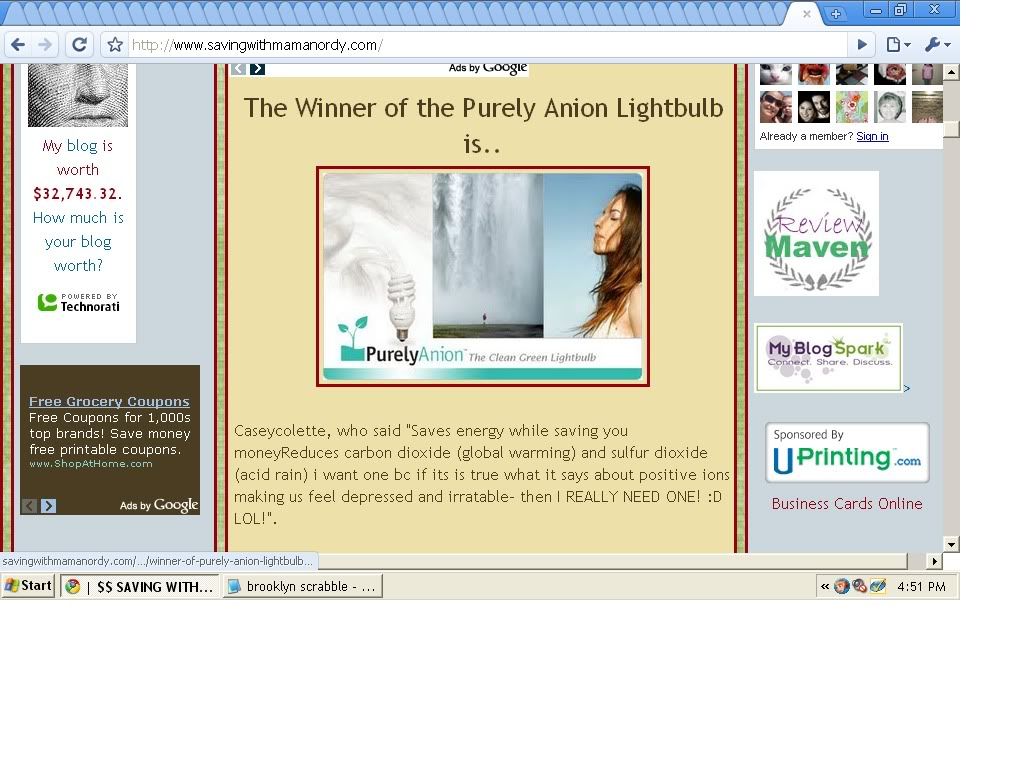 The great folks at Purely Products sent me a Purely Anion Clean Green Lightbulb to review and to give one away to a lucky reader! I am trying hard to get into a more "green" way of living, eco friendly detergent, beauty products, and home products. I was intriqued with this light bulb when I read about it on their website.
This bulb has a built in negative ion generator. What is that important? It is very interesting. Tons of things around us emit positive ions making us tired, depressed and irritable. Some of these everyday items include computers, TVs, other electrical devices and harmful building materials. The negative ions generated from this bulb removes those positive ions leaving the air clean and pleasant. They call them Vitamins in the Air! The negative ions in this bulb removes cigarette smoke, pet dander, dust mites, reduces e-coli and is ozone free after 3 hrs! It leaves your air cleaner, fresher and healthier. Now that is a multi-tasking light bulb!!
All of these benefits sold me on it for sure. We put the one we got in one of the spots in our ceiling fan in the living room. We left it on all day. When we got home, my dh swore he thought the room smelled more fresh. Hey, works for me! And now if we can get rid of some irritated attitudes from having them, I will buy one for each light in my house! :)
Seriously, the bulb is worth every penny it sells for (around $20) The light omits a soft glow too which is very welcoming. And most negative ion generators of this type sell for more than $50 elsewhere!
I WON AGAIN! this makes 4!!! yayayayayay! me!
UPDATE - never received this- contacted her NUMEROUS times about it, and she NEVER replied.