Experience The Epic Adventures And Tales of Friendship That Started It All!
Available On DVD, Digital Download And On Demand
 May 15, 2012 From Lionsgate And HIT Entertainment

 
Street Date: 5/15/12
Of course we have featured the wonderful ever-so friendlyThomasand his lovely friends numerous times on L of E! In fact- too many to count! Thomas the Train has never let me down, and even though I have girls, they love this show dearly! In fact- I just bought an awesome Thomas the Train toy for them at Wal-Mart just the other day, but I have it put up for Christmas, so SHHH! I love that this set explains how it all began and how they met, which is often left out of many cartoons. I love that idea, and I found myself watching along with the kiddies, which is quite rare! I like Percy the best! What about you? I also loved that on these 2 discs, they have managed to pack 20 exciting episodes! How good is that? THAT IS LESS THAN 1$ PER EPISODE! I'm sure it will more than come in handy to have when we go "off-the-grid" (just joking) and turn off our Direct TV. Still dreading that day, and it is coming very soon. It is in protest of high prices in case you are wondering. We are a longtime customer, but our bill is sky high, I have begged and pleaded with them to drop it, since new customers get a much better deal, but they won't.... So good-bye satellite TV.. :(
But it's OK, with wonderful discs like these laying around, I'm not sure we'll notice OR miss it too much!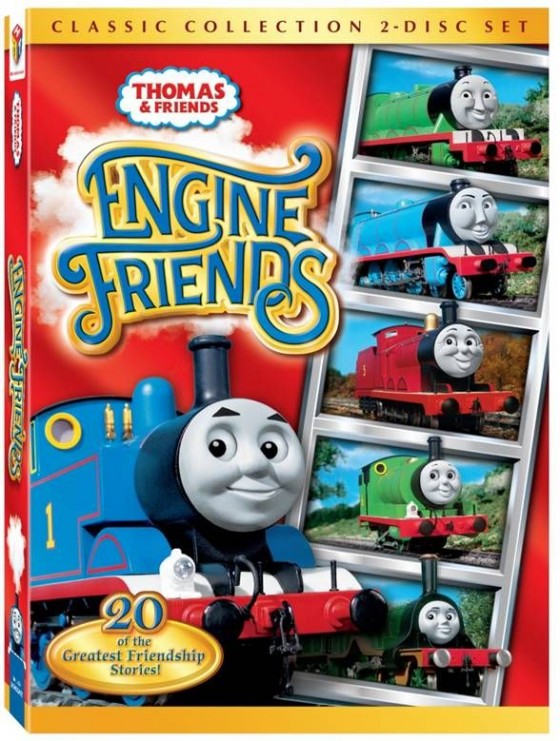 PROGRAM DESCRIPTION
Aspiring engineers will thrill at over 20 favorite Thomas & Friends® episodes on two DVD discs when

Thomas & Friends: Engine Friends

, comes to DVD, Digital Download and On Demand May 15, 2012 from Lionsgate and HIT Entertainment. Thomas, Toby, Percy and more favorite engine friends take you back to first meetings, learn about cooperation and discovery and realize the best adventures of all are the ones you can share with friends. Thomas fans won't want to miss this timeless collection of Sodor's finest moments of friendship on the tracks.
DVD SYNOPSIS
All aboard for some of the most memorable stories of friendship from the Island of Sodor ! Join Thomas and his friends and learn how the Steam Team first came together; how Percy became Thomas' best friend, and how every engine tries to be Really Useful! The greatest destinations are often those closest to home…as long as you have your

Engine Friends

.
ABOUT THOMAS & FRIENDS™
Thomas the Tank Engine™
was created by a father for his son over 65 years ago and today is enjoyed by families in more than 185 territories and in 30 languages. The #1 blue engine and his friends

invite children to enter a world of imagination through the tracks of a train and the words of a story. Children embark on adventures with their engine friends while experiencing timeless life lessons of discovery, friendship and cooperation.
Thomas & Friends
is the number one preschool toy property in the UK , a position it has held for the past 12 years. It remained the number one preschool toy license in the US for 11 straight years
[1]
and has been the number one preschool entertainment brand in the US since 2009
[2]
. The unrivaled popularity of the global brand continues with Thomas also being the number one preschool toy license in Germany and Australia , as well as the number one foreign preschool brand in China , Japan and Korea .
PROGRAM INFORMATION
Genre:
Children/Family/Ages 2-5
Closed Captioned:
English
DVD/VOD Feature Running Time:
149 minutes
DVD Audio Status:
English, Spanish and French 2.0 Dolby Digital
Website:
www.lionsgate.com/thomasandfriends
· "Thomas and Bertie's Great Race"
· "A New Friend for Thomas"
· "Edward the Really Useful Engine"
· "Thomas and the Rainbow"
· "Thomas and the New Engine"
· "Thomas and the Statue"
· "Emily and the Garbage"
· Sir Topham Hatt's Scrapbook
· Which Island Picture is Different?
It goes without saying that Giana is ALL over these special features including but not limited to the trivia games!!!!
Crazy deal, right?? I also especially loved this collection because it showed how some of our favorite characters came to be. If you have a Thomas fan in your life this one is a MUST! I am so pleased to tell you that one lucky L of E reader will win a copy of Thomas & Friends: Engine Friends thanks to Lionsgate & HIT Entertainment. Thanks to the sponsor and here is how to enter...
You can enter this giveaway via the RAFFLECOPTER WIDGET that will be at the bottom of this post. To enter, please wait for the Rafflecopter Widget to load. If it doesn't, try to refresh. If you still have issues (sometimes if you're using Google Chrome it can be a pain) please contact me via the comments or email. Additional terms and conditions are listed on the widget. Please contact me with any questions!
PS! Be sure to check out our other Lionsgate DVD giveaway ending on the same day:
http://1caseycolette.blogspot.com/2012/05/win-giveaway-join-bob-builder-and-his.html#.T7LkROs19kw
Disclosure of Material Connection
: I received one or more of the products or services mentioned above for free in the hope that I would mention it on my blog. I only recommend products or services I use personally and believe will be good for my readers. I am disclosing this in accordance with the Federal Trade Commission's 16 CFR, Part 255: "Guides Concerning the Use of Endorsements and Testimonials in Advertising." The opinions expressed in this post are entirely my own. Your experience with the product may differ from mine. The sponsor is responsible for prize fulfillment and will be shipping the winner(s) their prize(s). For more information read my disclosure policy.