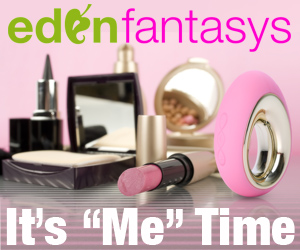 Eden Lives Healthy (Monday, July 25th, 8:30pm - 9:30pm EST)

Want to start leading a healthier lifestyle? Join us to discuss our goals and progress for the month, as well as create new goals for the next month.
I was a little shocked to get

this

in my email! I didn't know that

Edenfantasys delved more than just sexual health! As most of you know. I struggle with my weight. I am not overweight at all, just not a slender as I used to be pre-child birth. I also struggle, as most all

Americans wi

th healthy food choices. It's not that I do not like healthy food, I just also really like bad food! This group starts in a little less than a week. I am going to join it, and I hope you do too! I am proud of EdenFantasys for approaching a subject that needs to be talked about!
Yes, I review all kinds of things on Locomotion of Expressions. Toys, Fashion, Organic, Health, Beauty, I am not

limiting

this blog from too much. Life isn't limited to one area, why should my blog be? But, of all the things I review, the most important to me- is my family's health.
EdenFantasys website allows you to log-in through
Google
of Facebook plugin. (Or other ways, but those two being my favorites!) The
discussions
have a user-friendly interface because they are
organize-able
.
You can
click
and orgaize posts by:
Last updated

Number of posts

Topic (A to Z)

Author

(A to Z)
You will organize the topics in that manner. There is also a little
share
button when you

hover/highlight t

he post (before you open it) that you can share to Twitter or
Facebook
with one click. If you
highlight
a users name, if shows a
quick link
to their public info on EdenFantasys, such as a profile picture, and whatever public info they have made available. Like
their
rank on EdenFantasys, link to their other reviews, and how
many of those
, and other interesting tidbits.
Do yourself a favor and subscribe to their newsletter. (Scroll down the page a little to find the box!) Did I
mention
, you get 10 points for starting a discussion? Did I also mention you can use
points
earned
toward
purchases
on EdenFantasys?
Yep
! But we'll talk about that in my next post (in two weeks!), and I'll tell you all about it!